Food Safety & Sustainability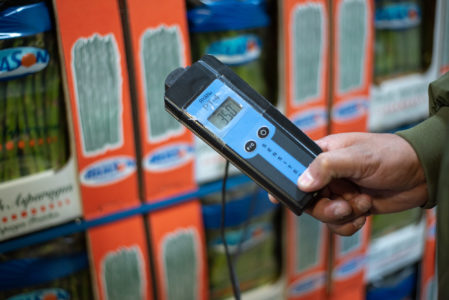 Our primary concerns are that we are stewards of the land, & ensuring fair treatment of the labor force we employ, so that we can provide safe, consistent, and nutritious product to our customers and consumers. The certifications below demonstrate this.
Primus Labs
In today's marketplace, food safety verification and confidence are critical. For over 25 years, PrimusLabs has been a global leader in food safety, They are based in California´s Central Coast, with offices in Arizona and Florida, as well as Chile, Costa Rica, and Mexico. Our grower partners are proud to be certified by both Primus Labs and PrimusGFS, as food safety is essential to our business, and nothing is more important to us.
PrimusGFS
PrimusGFS is a Global Food Safety Initiative (GFSI) benchmarked and fully recognized audit scheme covering both Good Agricultural Practices (GAP) and Good Manufacturing Practices (GMP) scopes, as well as Food Safety Management Systems (FSMS). The GFSI recognition of the PrimusGFS scheme helps move the produce industry one step closer to the desired goal of global food safety harmonization. The PrimusGFS scheme covers the scope of the supply chain from pre- and to post- farm gate production and provides an integrated supply chain approach. Our grower partners are PrimusGFS certified.
C-TPAT
C-TPAT is a voluntary Supply chain security program led by U.S. Customs and Border Protection (CBP) and focused on improving the security of private companies' supply chains with respect to terrorism. Baja Son Growers takes terrorism very seriously, and works hand-in-hand with the government and our supporters to make supply chains, and the US people safe and secure.
CONAGUA
The mission of CONAGUA is "to manage and preserve national waters and their inherent goods in order to achieve sustainable use, with joint responsibility of the three tiers of government (federal, state, and municipal) and society as a whole." To that end, they have certified our grower partners, as meeting and exceeding standards in place for agricultural water usage. With this being such a big issue now, and even more so in the near future, Baja Son Growers, is dedicated to water conservation and reuse.
PROFEPA
Our grower partners and owners are a certified protector by PROFEPA, whose vision is, "Being a strong and reliable institution, where the implementation of the Environmental Law responds to the ideal of justice that people demand in a society in which each member is guardian of a friendly coexistence between man and nature." If you know about Baja Son Growers, you know that we take our commitment to the land we farm very seriously.
RSE
RSE, or Resonsabilidad Social Empresarial, has designated our grower partners to be a responsible corporate business. What does this mean? RSE defines corporate social responsibility as a business culture based on ethical principles and firm enforcement of the law, respectful of people, families, communities and environment, which contributes to the competitiveness of enterprises, general well-being and sustainable development of the country. Since our inception, and throughout our history, Baja Son Growers has been committed to being a good steward.
Salud
Our grower partners and owners are certified by Salud, the Mexican Secretary of Health. Salud's mission: establish state policies for people to exercise their right to health protection. Baja Son Growers is proud to promote a fair work environment that rewards dedication to the company's vision and mission.
STPS
STPS aims to accredit skills and evaluate labor competencies in order to certify agricultural day workers and, therefore, improve their employability and foster continuous training. Employees of our growing partners are always trained in the latest food safety and quality controls, so that the product you get is the healthiest, freshest, and most delicious product available. BSG is accredited and certified by the STPS, also known as the Mexican Department of Labor.
SENASICA
The mission of SENASICA is to regulate, administer, and promote agroalimentary health, safety and quality, reducing the hazards inherent to agriculture, aquaculture, livestock production, and fishery activities in benefit of producers, consumers, and industry. SENASICA's vision is to, transform and modernize, with a juridical framework that promotes sanitary safety and facilitates commerce; with certainty based on a consolidated technical-scientific platform, under international and national recognition. Our growing partners are proud to have their coveted certification.
SMETA
Our grower partners have had a social audit completed by SMETA (Sedex Members Ethical Trade Audit).
SCS Global Services
Our growers are certified by SCS Global Services as pesticide residue free. SCS is on the the premiere arbiters of food safety and nutrition.
Salud Baja California
Salud Baja California has a goal of improving the life expectancy of the population, by accessing a service package fair, professional and quality health, building healthy communities in Baja California that allow the development of the potentialities of the individual. Salud Baja California certifies Baja Son Growers as an outstanding employer, that goes above and beyond for their employees.